Hello everyone!
When I try to convert a nifti file to a dicom series with ImageSeriesWriter, I encounter weird behavior when inspecting the results with ITK-SNAP. For a few cases the intensity range shifts from only positive double values in the nifti image to containing negative integer values in the dicom series. (datatypes are also defined as double and unsigned int for the image templates)
The only steps I take are reading the image, flipping it along y, and writing the dicom files.
Below is an image of the layer inspector, where you can see the same dataset, one time in nifti (on the right) and one time in dicom (on the left).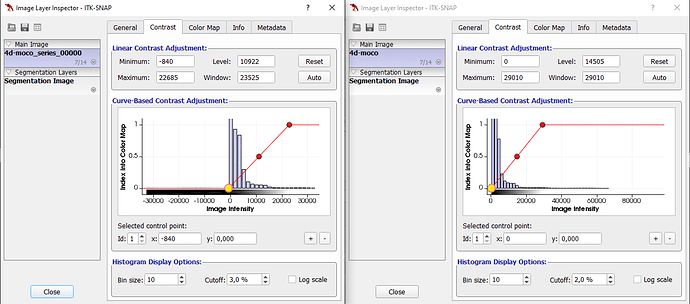 Additionally, here is an image from the datasets themselves. Again, nifti is on the right and dicom on the left. Here the intensity cut off in the bladder is obvious, but why does it occur when I don't do any processing on it? Do I need to set the data types for reading and writing differently?


Shouldn't the values be the same? I tried to compensate with RescaleIntensityImageFilter, but that doesn't help, unfortunately.
Help would be appreciated, thank you in advance!