Hello @zivy,
Thank you so much again for all your help so far.
When I set PixelRepresentation to 1, which is also carried out to the written .*dcm files, nothing changes. Everything I set in the C++ code is carried over, except the rescale slope and intercept. Below is an image for comparing the header information: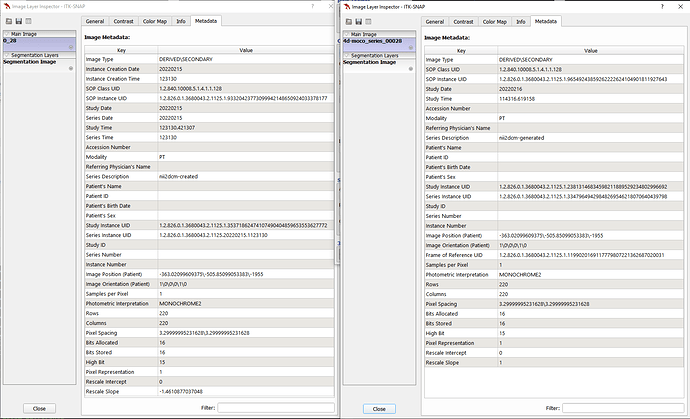 Do the other tags matter in that regard?
Also, what I noticed is the following: I have set the PixelType for my DICOM images like this using OutputImagePixelType = float;. This works fine, but the images are ALWAYS interpreted as short or int when read by ITK-SNAP. Are these expected or are we facing a possible error here, where I just set my datatypes wrongly?
An additional indicator for that (I think) is that when I take another data set, where one time set the datatype to unsigned short (gets displayed not correctly), and one time to signed short ( gets displayed correctly) the Pixel Representation tag is only set rightly for the correctly displayed one: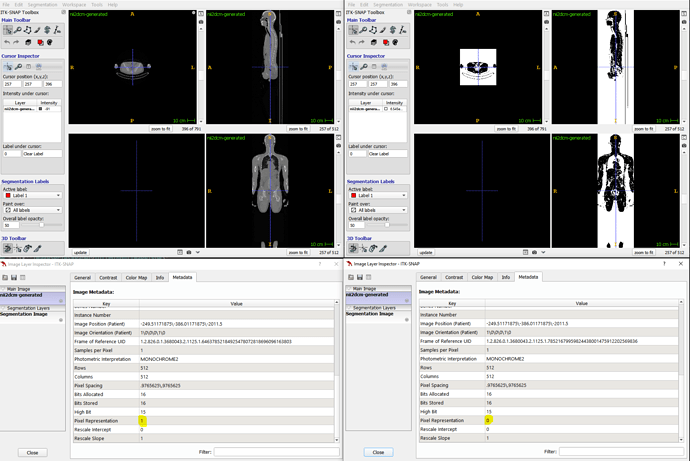 Left
: correctly displayed and correctly set Pixel Representation
Right
: not correctly displayed due to being unsigned with intensities starting at -1024 and not correctly set PixelRepresentation tag
Again, thank you a lot. Feels like we are getting close.