I am trying to register a vertebrae atlas to a dataset of T1 images.
Using a jupyter notebook GUI we have created relatively good initial transforms to align the template masks to the dataset. I was hoping to be able to robustly refine the registration using SimpleITK.
An example initial positioning is here: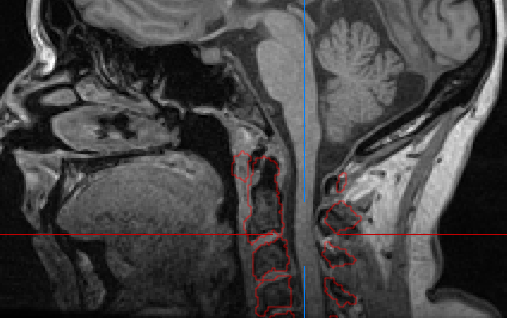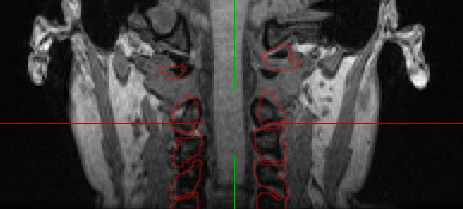 So far I am not reliably able to align the reference vertebrae masks to the T1 dataset. I am computing similarity metrics between the fixed T1 images and the moving T1 images corresponding to the reference masks.
While the obtained affine registration is reasonable, the bspline registration is unreliable and I get weird deformations.
I have tried to use fixed/moving masks, different metrics (mattes, ANTS ncc), cropped image regions, etc. My registration pipeline works well for the skull. I use a moving mask (vertebrae dilated by 15 pixels), and optimize in sequence: 1. similarity, 2. affine, 3. b-spline
Example results with weird deformations are show here (in yellow):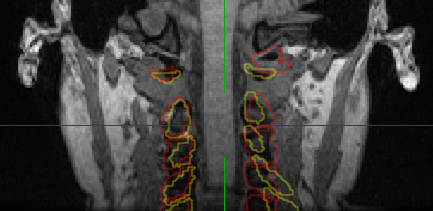 Questions:
the MR images are quite noisy in the neck region. Should I smooth the images first?
the region of interest is close to the image boundary: I have had trouble with this in the past. Should I pad the images? Should the padded region be excluded in the similarity metric (via mask)?