Hi,
I got a .dcm serie of images with gantry tilt. I loaded them with ITK5.1 and ITK4.10, but both of them give a skewed image. Using Dicom2Nifti doesn't have this problem. Photo as example: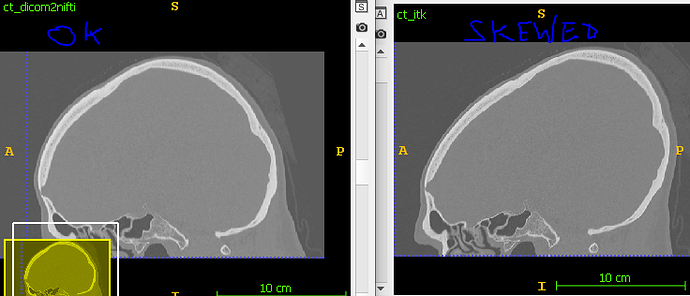 This is the code I use:
auto volumeReader = itk::ImageSeriesReader<InputShortImageType>::New();
volumeReader->SetForceOrthogonalDirection(false); // Doesn't solve gantry tilt problem
auto movinggdcmIO = itk::GDCMImageIO::New();
volumeReader->SetImageIO(movinggdcmIO);
auto volumeInputNamesGenerator = itk::GDCMSeriesFileNames::New();
volumeInputNamesGenerator->SetInputDirectory(inputDirectory);
volumeReader->SetFileNames(volumeInputNamesGenerator->GetInputFileNames());
volumeReader->Update();

Is there anything I am overlooking?