I'm trying to register a frame from camera to a template.
The most naive approach would be a feature based approach, finding a homography.
Unfortunately, for my case, images don't have adequate features to use as feature (they consist of vertical and horizontal lines. Ex, tennis court). I tried all the features available in OpenCV.
Then I come across a registration using Downhill simplex optimization and find it promising.
One drawback is that it is limited to registering affine transformed images, not projective ones.
Is there any registration algorithm to tackle projective transformed images in SimpleITK?
---
Template: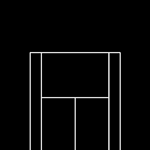 Frame: