Hello,
I work on cardiac cycle analysis (TEE). We want to obtain a mask of the left ventricle (or any other region of interest) during the whole cycle based on the mask manually annotated in ED/ES (end of diastole/systole). I tried examples based on SimpleITK methods. However, they were a bit slow and not real-time applicable.
I trained voxelmorph model on our dataset, and the deformed image looks quite good (almost exactly the same as the moving one). One problem is that the mask I obtain by warping the original mask with the deformation field is kind of "edgy" (see i.e. Antialiasing for labels · Issue #3178 · Project-MONAI/MONAI · GitHub). I can "smooth" the mask by applying Median Filter, however median filter often breaks the area with the same intensity, and the error is then propagated in the later sequences (after I warp the next deformation field etc.).
I would like to ask the community if there is a better way to handle this. I thought that maybe there is a method to refine segmentation in ITK or some kind of 'seed algorithm' that could start with the mask instead.
TLDR; I'd like to get a mask of a region of interest in the whole sequence based on the mask from the first image in the sequence.
thanks,
[LV example 2CH heart: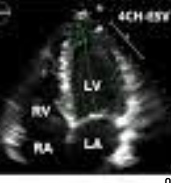 ]