When creating an ITK external module on GitHub with the ITKModuleTemplate, configuration for free continuous integration testing services are provided. This includes a CTest script that reports the results of a CircleCI Linux build and test to ITK's CDash dashboard.
A repository pull request will now also include a link to CDash page for the current pull request's build in GitHub's status: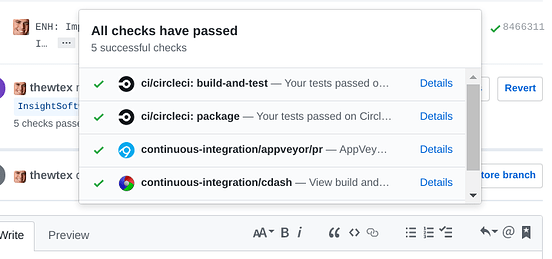 The Details link for the continuous-integration/cdash status will display CDash's visualization of a build's warnings, errors, and unit test results:

Currently, the continuous-integration/cdash status will always be listed as success (green checkmark) – the individual build statuses should be observed to understand which builds pass or fail.
All repositories within the InsightSoftwareConsortium GitHub organization have this service enabled. If you would like to create a repository in this organization, please let us know.